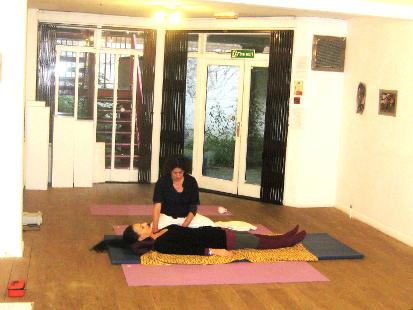 BACKGROUND
I have a background in working in Creative Arts Projects with adults and children with Special Needs. I was the founder and coordinator of a Sculpture and Arts Outdoor Project for children and adults on the Autistic Spectrum called Memory Gardens. This was a Voluntary Community Organisation. It was carefully developed by all participants as a practice of hospitality on a piece of neglected land in Islington. (2002-2009)
I initiated a one year Shiatsu Open Clinic at the "Centre for Better Health" in Darnley St, Hackney. This is a Centre that offers low cost psychotherapy and counselling to people who are being affected in their present life by mental health issues. (2015-2016)
THERAPEUTIC TRAINING
I gained a Professional Shiatsu practitioner qualification with KI KAI SHIATSU SCHOOL now based in Islington. (2002-2006).
Annual training in SEIKI SOHO, a softer focus that follows carefully, breathing patterns and small on-going responses in the client. (2004-on-going)
I have completed a Diploma in the Therapeutic Application of the Arts in Therapy at IATE (Institute for the Arts in Therapy and Education) based in Islington, London. (2013-2014).
I have completed a Post-graduate Certificate at the Tavistock and Portman Institute; "Child, Adolescent and Family Mental Well-being; A multi-disciplinary approach". (2016-2017) (Distinction).
ACADEMIC RESEARCH AND TRAINING
I have a BA in Social Anthropology from Sussex University.
I have an MA in Research Architecture from Goldsmiths in which I researched sensory, perceptual and motor learning styles in Autistic children, within the context of the Sculpture and Arts Project; Memory Gardens.
The Arts
I have been studying Contact Dance Improvisation and other Physical performance practices for over 15 years.
I have training and continuous involvement in Art-MAKING.
Music: I play the Guitar and Sing my own songs and the Djembe Drums in ensembles with others.
SPECIAL NEEDS QUALIFICATIONS
I gained an adult education Teaching Certificate for working with people with Special Needs specialising in Music, Dance and Story-Telling from the City Lit (1995-1996).
I am trained in a Child-Centred Therapeutic Program for Autistic infants called "Options Sunrise". The training is given by parents who themselves have been trained.
VOLUNTEER ROLE
I volunteered as a Therapeutic Play Practitioner with a child in a school through the Charity "Carefree Kids" based in Leighton. I received weekly group supervision for this piece of work between 2014-2016.

PROFESSIONAL AFFILIATIONS
I am a member of the Shiatsu Society UK, Member no.6828
I am affiliated to C.H.N.C, a Complementary Health Network
I am a member of the Children's Complementary Therapy Network (C.C.T.N)
__________
*Updated CRB check.and References available on request.