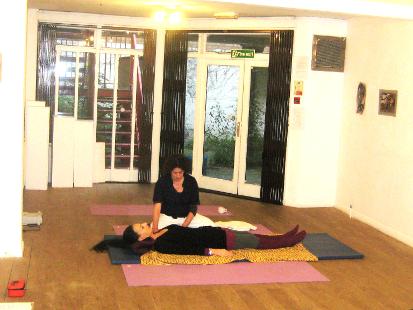 BACKGROUND
I have a background in working in Creative Arts Projects with adults and children with Special Needs. I have run music workshops, art and design courses and was the founder and coordinator of a Sculpture and Arts Outdoor Project for children and adults on the Autistic Spectrum called Memory Gardens. This was a Voluntary Community Organisation. It was carefully developed by all participants as a practice of hospitality on a piece of neglected land in Islington. (2002-2009)

I initiated a one year Shiatsu Open Clinic at the "Centre for Better Health" in Darnley St, Hackney (2015-16). This is a Centre that offers low cost psychotherapy and counselling to people who are being affected in their present life by mental health issues. The Open Clinic ran with the same ethos as Memory Gardens: It was an open space where everyone participated in holding this space safely. Treatments were short and between the sessions clients could remain; sit and drink tea and access art books. They could also witness the treatments taking place. This was a way to be together quietly and to be jointly affected by this atmosphere.
I have worked or work at the following Schools and Children's Centres as a Therapist:
Side by Side Integrated Nursery, Hackney, London: 1998-on-going
Millfields Community School Autistic Resource Base, Hackney, London: 2006-2009
Christopher Place Specialist Children's Centre, Euston, London: 2012-2014
Tyssen School Autistic Resource Base: 2015-on-going
The Garden School, Hackney (2017)
SOMATIC and THERAPEUTIC TRAINING
I gained a Professional Shiatsu practitioner qualification with KI KAI SHIATSU SCHOOL now based in Islington. (2002-2006).
Between 2004-2012 I had consistent annual training in SEIKI SOHO, a softer focus that follows carefully, breathing patterns and small on-going responses in the client. This was conceived and taught by Akinobu Kishi whose quiet receptive approach to contact has influenced my work strongly. Since Kishi's passing, his wife Kyoto now carries on the annual training program in the UK and Europe, taking it into her own way of teaching whilst staying true to Kishi's findings.
ACADEMIC RESEARCH AND TRAINING
I have a BA in Social Anthropology from Sussex University.
I have an MA in Research Architecture from Goldsmiths in which I researched sensory learning styles in Autistic children and the importance of dynamic spatial organisation in their experience, within the context of the Sculpture and Arts Outdoor Project; Memory Gardens.
I have completed a Diploma in the Therapeutic Application of the Arts in Therapy at IATE (Institute for the Arts in Therapy and Education) based in Islington, London.
I have completed a Post-graduate Certificate at the Tavistock and Portman Institute; "Child, Adolescent and Family Mental Well-being; A multi-disciplinary approach". 2016-2017 (Distinction).
The Arts
I have been studying Contact Dance Improvisation and other Physical performance practices in the UK and abroad for over 15 years.
I have training and continuous involvement in Art-MAKING. This is my daily reflective practice that orientates and holds dynamic information related to my treatments and therapeutic connections with clients.
Music: I play the Guitar, Accordion and Djembe Drums and regularly play with others.
SPECIAL NEEDS QUALIFICATIONS
I gained an adult education Teaching Certificate for working with people with Special Needs specialising in Music, Dance and Story-Telling from the City Lit (1995-1996).
I am trained in a Child-Centred Therapeutic Program for Autistic infants called "Options Sunrise". The training is given by parents who themselves have been trained.
VOLUNTEER ROLE
I volunteered as a Therapeutic Play Practitioner with a child in a school through the Charity "Carefree Kids" based in Leighton. I received weekly group supervision for this piece of work between 2014-2016.

PROFESSIONAL AFFILIATIONS
I am a member of the Shiatsu Society UK, Member no.6828
I am affiliated to C.H.N.C, a Complementary Health Network
I am a member of the Children's Complementary Therapy Network (C.C.T.N)
__________
*Updated CRB check.and References available on request.